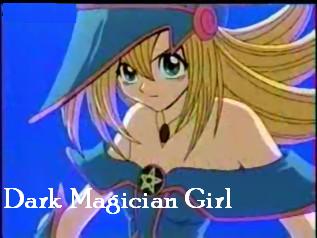 Dark Magician Girl
Anime: Yu-Gi-Oh!
Hair: Blonde
Eyes: Green
Associated Characters: Yugi & Dark Magician

So far there's been an android and a human, but this is a new one: a card winning the "Anime Babe of the Month" award. Dark Magician Girl (AKA Black Magician Girl;BMG)is cool. She never talks, but she doesn't have to. She says all she needs to with her facial expressions and body language. She's so sweet and cute! And for a card, she's pretty hot. So there you are, the "Anime Babe of the Month"!

Fact: The Dark Magician Girl's special ability reads "Increase this monster's attack by 300 for each Dark Magician and Magician of Black Chaos in all graveyards."


Dark Magician Girl Links: