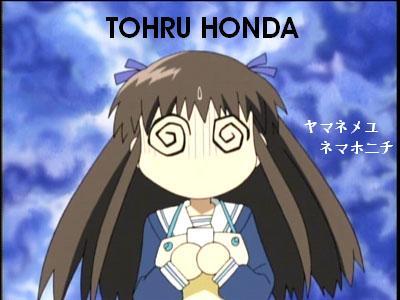 Tohru Honda
Anime: Fruits Basket

Hair: Brown

Eyes: Blue

Associated Characters: Yuki & Kyo, Ou & Hana



In Fruits Basket, Tohru discovers the secret Sohma Family curse: the members of the family can turn into animals! She gets over the initial shock and becomes close friends with the many members of the cursed family. Tohru Honda is a blissfully ignorant girl, but that's her most charming asset. It seems as though nothing can get this girl's spirits down. Whether she's acting silly, ignorant, sweet, or all of the above at the same time, she's just sooo cute! So that's our babe for the month: li'l miss Honda.



Fact: Tohru's Japanese voice actress, Yui Horie, also provides the voice for Naru from Love Hina. Yui is my favorite Japanese voice actress!