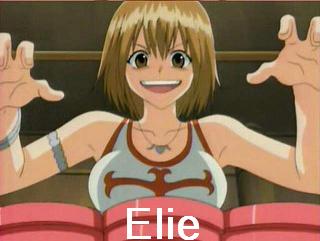 Elie
Anime: Rave Master
Eyes: Brown
Hair: Brown
Affilated Characters: Haru & Plue

Elie is Haru's cute, big-breasted partner. She joins him on his journey after running into him and Plue. Elie loves gambling and using her blasters to knock sense into her foes. She's really cool! There's just something about her attitude, and other assets, that makes her so charming. And that's Elie, our Anime Babe O' the Month! Did we mention she has nice tah-tahs? 'Cuz she does.

Fact: I know nothing about either of her voice actors.