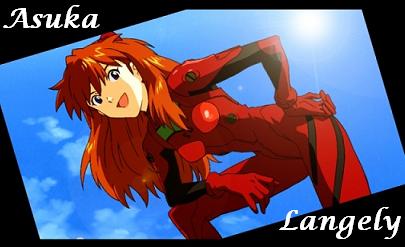 Asuka Langley
Anime: Neon Genesis Evangelion
Hair: Light Brown
Eyes: Blue
Affiliated Characters: Shinji & Rei

Asuka is the brash, overly-confident pilot of Eva-02. She can be obnoxious and annoying, albeit, hot. Asuka is, like, really really hot. Girl's got it goin' on. Once you get past her orneriness, she's a fun girl. Although, Asuka did not win this month's spot because of her attitude, I'll tell ya that much! But she did become this month's babe, and that's all that matters, right?