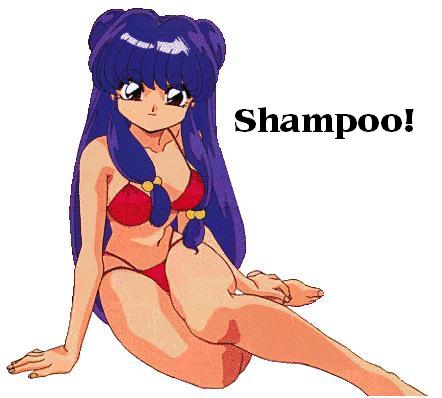 Shampoo!
Anime: Ranma 1/2
Hair: Purple
Eyes: Brown
Affiliated Characters: Ranma

Shampoo is hot. Really hot. Sure, she's, like, really old (her animation at least), but that doesn't change the simple fact: girl's got it goin' on! We all know Shampoo as that cute, sometimes dumb, girl from Ranma 1/2. I recently discovered Ranma 1/2, so my eyes were finally opened to Shampoo (the first time I had actually enjoyed getting Shampoo in my eyes). Shampoo is just the kinda girl that most heterosexual guys want: she's cute, has nice boobs, and isn't terribly smart. Nice.


Fun Fact: Shampoo is Chinese!! In the words of Monty Python, "I like Chinese."